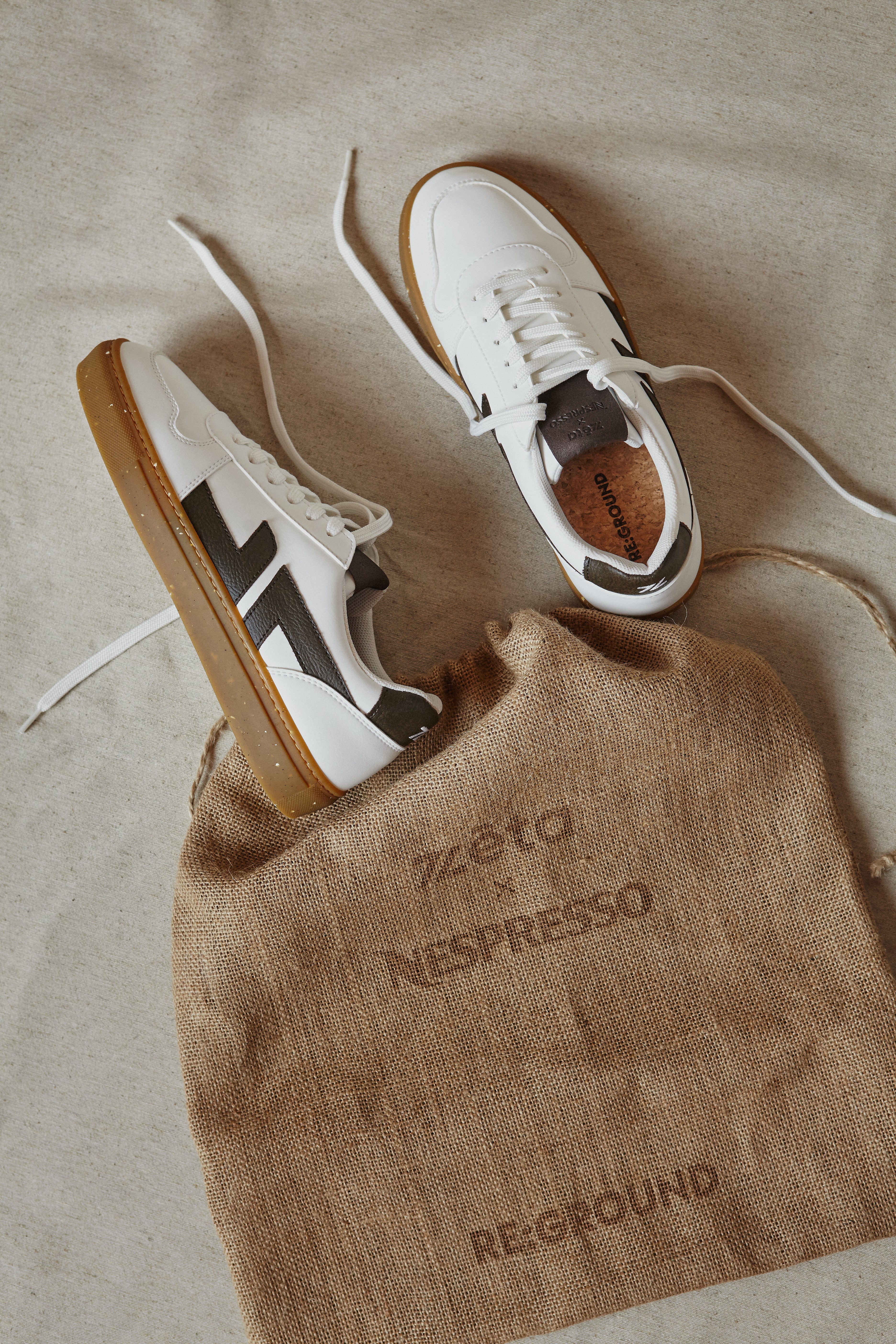 Zèta x Nespresso: a step forward for circularity with sneakers made using recycled coffee grounds
Zèta x Nespresso: a step forward for circularity with sneakers made using recycled coffee grounds
Nespresso, the pioneer and reference-point of high-quality portioned coffee, has partnered with zero-waste fashion start-up Zèta to create RE:GROUND, a stylish sneaker made using recycled coffee grounds.
The limited-edition capsule collection was inspired by the principles of zero-waste, eco-design, and French style, with RE:GROUND set to become an instant icon of sustainable fashion. Each pair of RE:GROUND sneakers contains 12 cups' worth of coffee grounds¹ from Nespresso's capsule recycling scheme, which have been integrated into the vegan leather uppers as well as the soles of the shoes. The rest of RE:GROUND is made using 80% recycled and sustainable materials.
Internet searches for sustainable brands have grown by more than 45% during the past five years² as consumers become increasingly aware of their wardrobe's environmental footprint. Laure Babin, the 25-year-old CEO of Zèta, recognised a growing gap in the market for eco-conscious footwear. She founded the brand two years ago with a goal of creating the world's first zero-waste sustainable sneaker.
Guillaume Le Cunff, Nespresso CEO, said: "Zèta is an incredible start-up that brings together style and sustainability. The brand's commitment to circularity means they are pushing the envelope in terms of creating new value from waste, and their spirit of innovation has led them to design a whole new use for our recycled coffee grounds. Zèta's RE:GROUND capsule collection is sure to delight coffee and fashion fans alike."
Zèta worked with Tintex, its fabric manufacturer, to create the innovative coffee faux-leather made using grounds recycled through the Nespresso capsule recycling scheme.
Zèta shoes are made in Portugal and the brand only ships to customers in Europe in order to maintain a short product circuit. The limited edition RE:GROUND capsule collection is exclusively available on www.zeta-shoes.com, while stocks last.

¹Represents 7% total mass
²Google Trends searches for 'Sustainable brands' 2017 - 2021